For highly technical industries like manufacturing, hiring an employee who doesn't have the right skills for the job can have serious consequences. Not only are you expending valuable time and resources, but you could be creating an unsafe working environment if the new hire isn't qualified to be on the manufacturing floor.
A skills assessment is one of the best ways to assess a candidate's skills. Technical skills assessments and pre-employment tests help evaluate a potential candidate or current employee's skills to see if they have the needed skills for a specific position.
According to the Society for Human Resource Management (SHRM), 56% of employers use pre-employment assessments to gauge candidates' knowledge, skills, and abilities. And 78% of HR professionals who use skills assessments say the quality of the organization's hires has improved.
But how do you know if the skills assessment you're considering is a good fit for your company and will actually measure relevant skills? If you are just getting started with skills assessments or are looking for an assessment provider, here are a few things you should keep in mind.
Assessments Based on Industry Standards
The dictionary definition of a "standard" is "a level of quality or achievement that is considered acceptable or desirable." But in the world of workforce development and technical assessments, the word often carries a more complex meaning.
Within an industry, a "standard" defines critical duties and skills needed to perform a specific job. For example, a competency (or skill) within the CNC Operations standard might be reading and writing basic G and M codes. For a precision machinist to be considered "job ready", they would have to be able to perform all competencies in the standard for their occupation and specified level.
But what do standards have to do with skills assessments?
For a technical skills assessment to accurately gauge a candidate's competency, it should have something to measure against. Without a standard to provide a specific and relevant foundation, an assessment for precision machining or industrial maintenance would yield less meaningful results. An industry-based assessment gives employers more confidence that the results will actually measure skills relevant to the position and the employee's success.
Psychometrically Sound Assessments
One of the biggest benefits of adding a skills assessment to your hiring is removing bias from the evaluation process. Data from a quality skills assessment will provide an objective, detailed analysis of a candidate's skills. However, not all skills assessment companies follow the same test development standards.
Psychological measurement, or psychometrics, is a branch of psychology specializing in the theory and technique of cognitive measurement. It plays a vital role in education and employment because it helps determine the objectivity of assessments used to measure knowledge, skills, and educational accomplishments.
In other words, a psychometrically sound assessment reliably takes the role of an objective third party making a recommendation on a candidate's suitability. Employers who use skills assessments to help make hiring decisions need to know the test is not biased and will accurately measure the right skills.
An employer hiring a mechanical maintenance technician needs to have confidence the assessment accurately measures key skills like reading schematics, knowledge of hydraulics, and familiarity with specific machines.
A skills assessment company that includes psychometric evaluation is a good indication it follows the highest test development standards and that its assessments will provide accurate and reliable results.
Comprehensive Data & Score Reporting
The best assessment in the world doesn't mean much if there isn't a way to apply the results. After a candidate takes a skills assessment relevant to the industry and the specific position, there should be a way to easily review test data and use the results to make an informed hiring decision.
For example, a score report from an NBS skills assessment includes a breakdown of scores for specific competencies. In one of our most popular assessments, Industrial Maintenance Mechanics, a candidate's score report will include scores for each performance area and compare those scores to group, state, and national averages. If a candidate scored well on the electronics portion of the test but not well on the hydraulics questions, you have some immediate insight into their real-world skills and if they might be a suitable hire.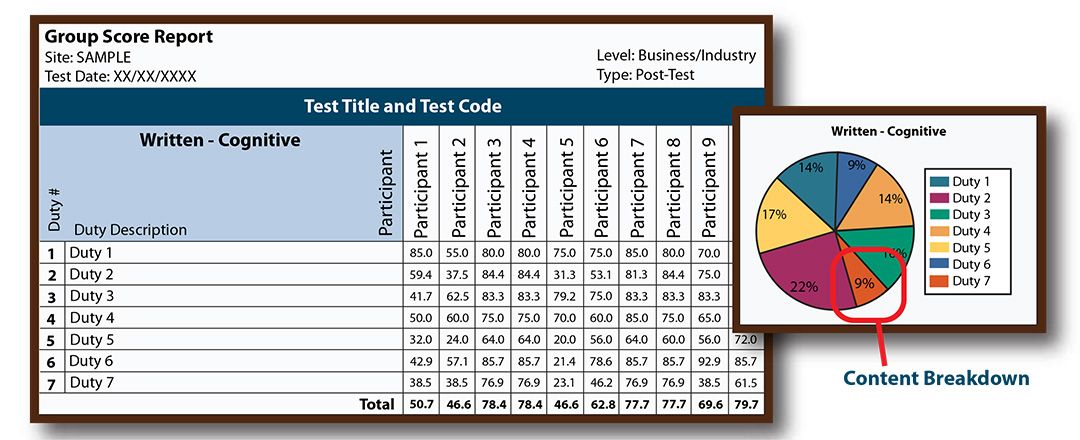 Build a Skilled Workforce with NBS
Nocti Business Solutions has been helping employers identify their workforce's skills and knowledge for over 20 years. Our entry-level assessments are based on industry standards and we have psychometricians on staff to help ensure the quality of every test.
In addition to over 170 "off the shelf" assessments, we can create customized tests for your organization, equipment, and processes. View our Assessment Index for a complete list of entry-level tests, or contact us with any questions.