Skilled workers were in demand even before COVID-19. Due to a variety of factors (an aging workforce and a negative perception of skilled trades), employers have long struggled to find qualified workers with the necessary technical skills. While this skills gap is concerning (and further complicated by COVID-19), it does mean plenty of opportunity for anyone looking to enter a skilled trade. From learning on-the-job to saving on college tuition, here are a few reasons to consider a skilled trade career.
An Early Start
Many students are unaware they can get a jump-start on a skilled trade career while still in high school. Funded by federal grants, most public schools offer career and technical education (CTE) classes. Students learn industry-relevant skills in a hands-on environment. As well as preparing for a specific career path, students certify and validate their skills by earning credentials. These industry-recognized credentials can be used as proof of skills when looking for a job or to connect students to postsecondary programs and additional training.
It's vital to educate students about skilled trade career options during (or even before) high school. Not only are skilled trades an alternative to an expensive four-year degree, but the hands-on nature of the coursework is beneficial to students who do not learn well in a more traditional classroom environment. Many skilled trade careers offer a quicker route to employment, have career advancement opportunities, and come without the four-year degree price tag.
Learn On-The-Job
Not only can high school students gain real experience through hands-on CTE programs, but those pursuing skilled trade careers often learn on-the-job. Unlike most four-year degrees, apprentices learn a trade while getting paid for on-the-job training. Apprenticeship opportunities are growing. The U.S. Department of Labor reports over 10,000 new apprenticeship programs have been added within the last five years.
Depending on the program, an apprenticeship combines on-the-job training with technical instruction (usually from a trade school). Giving learners a chance to directly apply technical instruction to real work scenarios, apprenticeships are an excellent option for those who may learn best outside of the classroom. Completing an apprenticeship shows employers you have both the technical know-how and the practical experience to be a valuable asset to their organization.
Save Time & Money
Training for a skilled trade career is less expensive than a traditional college and takes less time. Most technical or vocational schools have two-year programs and many combine apprenticeships with classroom training. Learners are able to start their careers sooner and with more hands-on experience than most who pursue a four-year degree.
In addition to saving time, trade schools are a much more affordable option. The average cost of a trade school is $33,000, while the average cost of a four-year degree is $120,000. Even with financial aid, 70% of universities are unaffordable for working-class and middle-class students. From 1989 to 2016 the price of college increased almost 8 times faster than wages did, making it more and more difficult for graduates to pay off student loans.
Career Options & Job Security
Even before COVID-19, the skills gap made it difficult to hire skilled workers. There are more open skilled trade positions than there are workers to fill them. While its long term implications are concerning, the skills gap does offer skilled trade workers job security and plenty of career opportunities.
Skilled trade jobs are especially relevant now as we maintain infrastructure and rebuild the post-COVID economy. With the terms "essential" and "non-essential" now common classifications for businesses and workers, the critical role of skilled trades should be more apparent than ever before. Construction crews maintaining roads and bridges, carpenters building homes, plumbers maintaining our water and sanitation systems, electricians supplying energy and power, mechanics and industrial maintenance crews keeping manufacturing up and running—the demand for skilled workers isn't going away anytime soon. We hesitate to say a global pandemic has a "plus side", but it has helped illuminate the opportunities and stability of skilled trade work.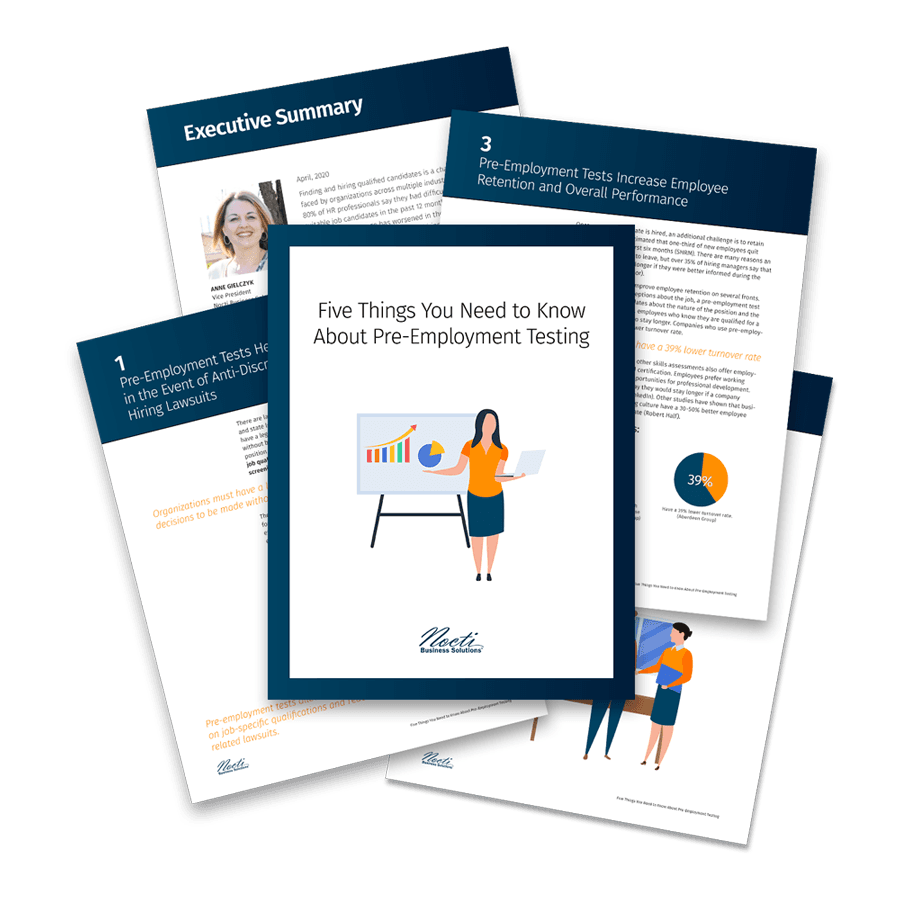 Five Things You Need to Know About Pre-Employment Tests
Not sure how to utilize pre-employment tests within your organization? This free resource outlines five crucial things to know about pre-employment tests and how they can be used to face your hiring challenges.