The interview is perhaps the most crucial part of the hiring process. As an interviewer, your goal is to hire qualified candidates who will positively contribute to your organization's mission. But how do you craft a process that is both efficient and tailored to your company's specific needs?
Here at NBS, we believe that choosing the right people and providing them with effective training is a recipe for success. We understand the importance of building a productive workforce and the challenges that come along with identifying a candidate's strengths and weaknesses.
"Far and away the best prize that life offers is the chance to work hard at work worth doing." —Theodore Roosevelt
Why is the interview important?
In its simplest form, an interview should let you meet and evaluate qualified candidates. However, in reality the process is anything but simple. Costs of onboarding new employees have skyrocketed. Each hiring decision can potentially cost tens of thousands of dollars in salary, training, and benefits. The U.S. Department of Labor estimates that the cost of a bad hire can equal 30% of the employee's first year's potential earnings.
A well-crafted interview will benefit your company as a whole. The stronger your interview process, the better chance you have at hiring the right person for the right position. Additionally, it's an opportunity to give job seekers a glimpse into your organization, its values, and its place in the industry.
Eight steps for creating an efficient interview plan
Our experience at NBS has taught us that intentional planning is everything. Set yourself up for success by tailoring the interview process to your organization's needs. Here are a few ways to craft a stellar interview process:
1. Build a profile of your ideal candidate
Begin by defining what kind of candidate you intend to hire. Include details such as the kind of experience required, skill level, certifications, and education. Also, list the basic requirements of the job. Include your organization's values and how these are tangibly reflected within the workplace. Be sure to include these attributes when posting your job to reach and attract desirable candidates.
2. Target your desired candidates
Invest in the resources that will effectively target your ideal candidates. While it may be tempting to post on every job board in existence, this may be a needless expense of time and resources. Before posting your job, conduct some research on the most cost-effective job sites. There may even be places in the local community where you can post a job opening for free (public libraries, community centers, social media groups).
3. Script the interview
Before sitting down to script your interview questions you may wish to talk with experienced supervisors and employees. What skills have they needed to succeed on the job? What qualities do they have in common? Use this information to begin crafting intentional questions.
Now it's time to script your interview. There are a variety of ways to frame your questions. Open-ended questions encourage candidates to give longer answers and describe their knowledge, strengths, and experience. These types of questions also give the interviewer a sense of the applicant's potential and if the person would be a cultural fit. Closed-ended questions are a great way to obtain specific information from the applicant. These questions allow the employer more control over the interview. Use a combination of open and closed questions to customize your interview script.
4. Be critical when reviewing potential candidates
Once you have your job listing up and your interview scripted, focus on organizing the incoming applications. Look for candidates who match the majority of your requirements. At this stage, it's worth it to be picky.
To further sort through your top candidates you may want to consider setting up a pre-interview assessment. NBS offers a variety of pre-employment tests designed to help you gauge a candidate's knowledge and current skill level. These results will aid you in making well-informed hiring decisions.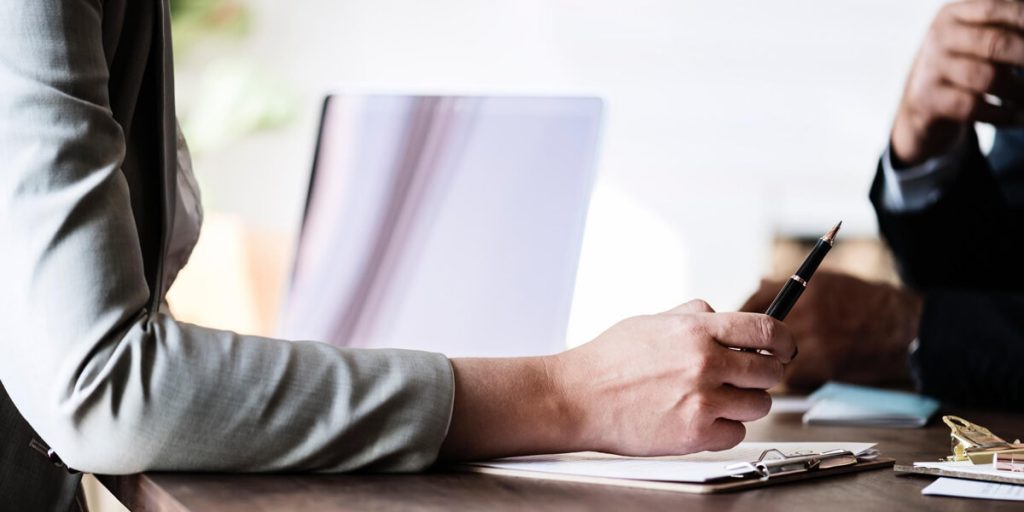 5. Set high expectations for yourself as an interviewer
As an interviewer, you may be a candidate's only point of contact with your organization. For this relatively brief time you are responsible for representing the entire company's mission and values. Conduct yourself accordingly.
Additionally, you may want to use this time to showcase your organization's vibrant culture and place in the industry. Present your potential candidates with the available training and development opportunities.
6. Set expectations for candidates
Refer back to the profile of your ideal candidate. How should these qualities be presented in an interview? Before interview day, establish what basic requirements your candidates should have. How should they present themselves? What knowledge and skills should they possess?
As an interviewer, there are certain things you love to see when a candidate walks in the door. Well-presented, punctual, communicative candidates are impressive[ to any hiring manager. However, you should be wary of relying too heavily on first impressions.
Most candidates find the job search and interview process extremely stressful. You can put them at ease by providing clear instructions. Let them know what topics will be discussed and about the appropriate dress code. During the interview, an open-ended question is also a great way to help a candidate relax.
7. Ask questions…
…lots of questions. Your interview script is there to make sure you cover basic info and to keep you on track. But don't feel tethered to it. A candidate can sense when the interviewer is in robot mode. Ask targeted questions about their previous work experience, their learning style, and other work-related matters.
Assume you are hiring for the long term. John Sullivan, HR expert and professor of management at San Francisco State University advises looking for evidence of the candidate's "curiosity, insight, engagement, and determination." Assume that "the person will be promoted and that they will be a manager someday. The question then becomes not only can this person do the job today, but can he or she do the job a year from now when the world has changed?"
8. Compare and contrast potential candidates
Compile a list of promising candidates throughout the interview process. Don't hesitate to follow up if you require additional information concerning certification, education level, references, or previous employment. Don't rush this stage. In a recent study, 38% of participants admitted that a bad hire was the direct result of trying to fill a position too quickly. The time you invest at this stage will not be wasted.
As you narrow down your list be sure to relay timely feedback. Following up with each candidate concerning the hiring manager's decision is a mark of respect and upholds the company's integrity.
Pre-employment testing with NBS
A well-structured interview is a vital step to building a superior workforce. If your company would like to assess your potential candidates' skills and knowledge accurately, consider pre-employment testing with NBS. We provide accurate and effective testing material for any industry, as well as customizable tests. We also design each of our tests to be fair and effective; accurately testing the knowledge and skill level of workers across all industries. If you have any interest or curiosity regarding how you can use assessments within your hiring system, contact Nocti Business Solutions today!