COVID-19 has fundamentally changed hiring and recruiting. Amid shifting business models, a high unemployment rate, a transition to remote work, and automation, employers need to find ways to build competent and sustainable workforces. Pre-employment tests from NBS can help meet the evolving needs of employers in an unpredictable job market by accurately identifying qualified candidates, and by providing a non-discriminatory and legally defensible process for choosing which candidates to hire.
How Has COVID-19 Changed Hiring & Recruiting?
The difficulty of assessing or quantifying how COVID-19 has changed is due to how varied the effects have been. Some industries have had to hire more workers to keep up with increased demand, while others have been forced to lay off employees without a clear idea of what the future holds. Some businesses experienced an initial slow down and are now trying to catch up with backlogged work and transitioning levels of demand.
With so many changes coming at rapid-fire, it's hard to predict what talent acquisition will look like in the future. How can your business prepare to meet current challenges while building a qualified workforce?
Recruiting Itself has Changed
It's no surprise that a major shift toward a completely virtual hiring process has occurred. During lockdown, companies needing to hire had little choice but to adapt their recruitment methods. With the prevalence of online job boards and the wide availability of video conferencing, many companies made the switch to virtual hiring. However, with some businesses being closed during the early months of the pandemic, not all have been able to make the switch or to solidify a new process.
Virtual hiring isn't the only change. Businesses have had to adapt to other challenges like:
Hiring budget cuts
Firing instead of hiring
High-volume hiring
Difficulties finding qualified candidates
Recruitment digitization
Individual Hiring Needs Have Changed
COVID's impact on hiring has been widespread and unequal, changing from business to business. Two HR managers in two different industries could face wildly different problems. This makes finding viable solutions more difficult, requiring employers to fine-tune and customize their recruitment process to meet their specific challenges.
Employers will also need to streamline the hiring process to avoid a potential recruiting backlog. In a Forbes article, recruiting strategist Jack Whatley warned of the repercussions of a hiring backlog "…it causes problems for your current employees and an under-staffed company. It becomes frustrating for them, because they're forced to work overtime, and the big workload kills morale and increases turnover."
The Job Market Is (Still) Changing
In April 2020, the U.S. unemployment rate rose to 14.7%, the highest it's been since the Great Depression. By September 2020, the unemployment rate fell to 7.9%. Such dramatic shifts over the course of a few months and the possibility of continued social distancing and quarantine measures makes it difficult to predict the future job market. Employers must be able to adapt their recruitment strategies while still maintaining a solid and legally defensible way to hire qualified candidates.
How Can Pre-Employment Tests Help?
As a form of skills-based assessment, pre-employment tests could be key to helping companies maintain an adaptable, yet reliable, recruitment process. Here's how.
Identify Qualified Candidates Quicker
The right pre-employment test will evaluate a candidate based on the actual skills needed for the position. Unlike personality tests or other behavior-based assessments, skills-based assessments give employers critical insight into the actual skills a candidate needs to be qualified for the position.
Skills assessments from NBS can include a performance component in which the test taker must complete specific tasks in order to be considered competent. For example, industrial maintenance mechanic test takers might need to troubleshoot an electrical control system or assemble a multiple shaft gear drive system, all while maintaining proper safety and equipment procedures. Being able to evaluate actual skills and knowledge will help employers quickly and accurately identify the most qualified candidates.
A Closer Look at a Candidate's Specific Skills & Knowledge
Skills-based assessments not only measure relevant skills and knowledge, but they provide insight into specific competencies. Test results give an overall score as well as subscores for each performance area. Skills assessments from NBS are created with the help of subject matter experts, ensuring tests are relevant to the industry. NBS also offers three levels of assessments (entry-level, experienced worker, and advanced skill), so employers are able to evaluate candidates across multiple skill levels.
Legally Defensible Hiring Decisions
Laws prohibiting employment discrimination exist at both the federal and state levels. When it comes to rehiring workers previously laid-off during the pandemic, Jack Whatley commented, "Employers must be cautious in determining who to bring back to the workplace. Employers will need to have a legitimate, non-discriminatory reason for choosing which employees to rehire."
Employers utilizing pre-employment tests are better able to avoid potentially costly lawsuits and create a legally defensible way for employment decisions to be made without bias and on the basis of knowledge and skills required for the position.
Build A Resilient Workforce With NBS
Not all pre-employment tests are created equal. At NBS, our tests are thoroughly researched and designed to provide accurate and fair results across all industries. After meeting with knowledge experts to define the skills needed for a specific position, we conduct rigorous pilot testing to ensure legal defensibility. The process, from start to finish, is founded on industry-standards of test validity and reliability.
We also offer custom development to help employers more effectively overcome their specific recruiting and training challenges. Please contact us with any questions or if you'd like more information on pre-employment tests. We're happy to set up a free consultation and discuss how pre-employment tests can help build a more qualified and resilient workforce.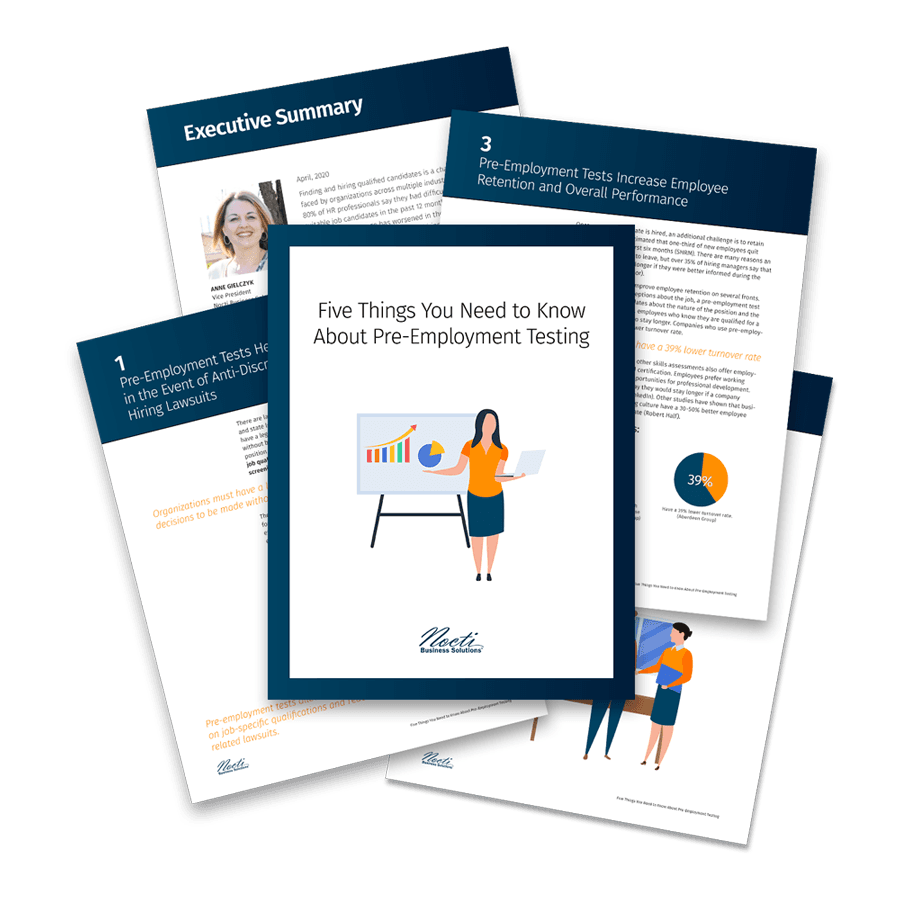 Five Things You Need to Know About Pre-Employment Tests
Not sure how to utilize pre-employment tests within your organization? This free resource outlines five crucial things to know about pre-employment tests and how they can be used to face your hiring challenges.