A performance assessment, sometimes called "work samples" or "job simulations", is a valuable tool—especially when administered as part of a pre-employment test.
During a performance assessment, test-takers must complete various tasks using tools and procedures specific to the industry. Along with the written test, the hands-on performance assessment helps hiring managers understand a candidate's particular skills and knowledge and provides objective data to inform the hiring decision.
Here are three specific benefits of using performance assessments as part of an industry-relevant pre-employment test.
1. Evaluate On-The-Job Skills
A written assessment is a common method for determining a test-takers technical knowledge. However, taking a multiple-choice test online (or with paper and pencil) is a much different experience than being on the manufacturing floor alongside other employees and equipment.
For example, one of our most-used assessments is Industrial Maintenance Mechanics. We designed this entry-level assessment for a variety of maintenance mechanics working in a manufacturing or production environment.
The written assessment portion includes 169 questions covering the following areas:
Machinery and equipment: 16%
Tools and safety: 14%
Electronics and electrical principles: 13%
Hydraulics and pneumatic: 14%
Motors and motor controls: 14%
Mechanism drives: 10%
Industrial robotics systems: 8%
Blueprints and schematics: 11%
The performance assessment consists of four jobs. Areas and tasks covered are:
Connect and operate a circuit: 20%
Assemble a multiple shaft gear drive system: 31%
Read and interpret an industrial blueprint: 29%
Troubleshoot an electrical control system: 20%
To complete one of the jobs, a candidate might have to determine the cause of a malfunctioning electrical control system, replace faulty fuses, and start and run the motor all while using the proper methods and observing safety procedures.
This level of hands-on evaluation goes beyond what is covered in the written portion of the test and demonstrates the candidate's ability to complete specific tasks required by the position. You want to hire the right person for the right job, and that includes ensuring they have the right skills and knowledge to contribute to a productive and safe workplace.
2. A Better Evaluation Experience for Candidates
A second reason to include a performance assessment is the positive effect it can have on the candidate's evaluation experience. Research among job-seekers shows that candidates want to know they were given a fair chance to compete for the open position. Almost three-quarters of job-seekers (72%) want to prove they have the necessary skills for a position, and 55% say they would feel more confident applying if they could prove they are qualified.
Including a hands-on assessment as part of your hiring process could also help reduce test-taking anxiety for candidates. While still an important step in the evaluation process, a qualified candidate who does well on-the-job may not feel entirely comfortable taking a standardized test. Having a chance to "show what they know" may make them more comfortable with the evaluation process.
3. Training Insights & Less Time to Competency
Results from both the written and performance assessments can give valuable training insights. At NBS, our score reports include a breakdown of specific scores within each performance area.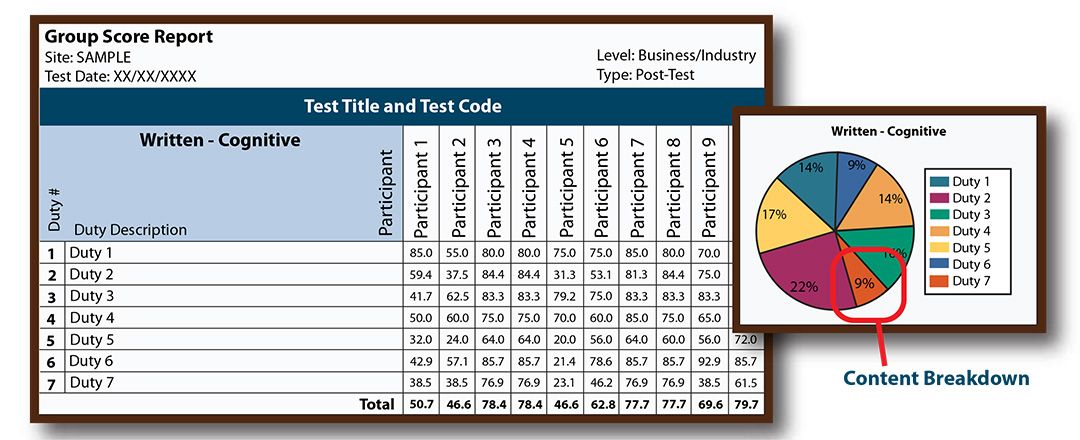 Suppose an industrial mechanic candidate scored well on the industrial robotics portion of the test but did not do as well on the blueprints and schematics portion. In that case, you have immediate insight into where to focus training efforts.
These specific insights into a candidate's performance not only make the most of the trainer's time but lessens the overall time it takes a new employee to become a competent and productive member of your organization.
Build Up Your Skilled Workforce with NBS
Entry Level pre-employment tests from Nocti Business Solutions include an optional performance assessment component. The detailed test results can provide the objective data you need to help make more informed and confident hiring decisions.
Having candidates complete tasks like they actually would on the job gives a much more comprehensive picture of their skills and is a more accurate measure of future job performance. Performance assessments are completed with the same tools, machinery, and technology used in the actual work environment.
With over 170 technical skills assessments across every industry, NBS is here to help you accurately assess potential employees' knowledge and skills. We want to help solve your workforce challenges so you can build up a skilled and competent workforce. Contact us to see what solution meets your needs.