Safety should be a top priority for every company, no matter the industry. And when dealing with skilled trades or employees in the labor industry, safety becomes even more of a priority. Despite advances in technology and equipment, research has shown that nearly all construction workers will have at least one work-related injury in their lifetime. In 2018, the Occupational Health and Safety Administration's (OSHA) most cited violation was inadequate fall protection, the second was hazard communication, and the third was scaffolding safety. With the continued demand for skilled workers (construction workers, welders, and electricians to name a few), managers and supervisors must work even harder to ensure employees receive the necessary training and follow safety procedures.
Safety research has found that employees who break safety rules are more likely to be involved in workplace accidents. While this may sound like a "no-brainer" to many of us, this statistic points to a deeper issue. Despite available safety equipment, many workplace accidents are caused by rule-breaking. While not all accidents are 100% preventable, we can begin shifting the perspective on rule-breaking with proper training and by encouraging an overall culture of safety.
What is Safety Culture?
"Safety culture" is defined as an organization-wide approach to safety management. This includes safety strategies, procedures, training, briefings, equipment, and incident investigations. The goal of a well-established safety culture is to help every member of the organization recognize the value of safety, resulting in a safer, more productive workforce.   
NBS is committed to providing the resources to equip your workforce with the proper safety knowledge and skills. Our skills assessments make safety training accessible and understandable. We believe that equipping your employees with the right knowledge is a crucial step toward building a culture of safety. Here are some additional ways to promote a safety culture within your organization.  
Safety Foundations
1. Start at the top
Give your safety culture a strong foundation by laying the groundwork at the highest level. Avoid a disconnect between management and ground-level employees by cultivating a company-wide focus on safety.
2. Focus on employee well-being
The goal of safety is employee well-being. Make sure this is your focus early on, and that your intentions behind the organization's safety strategy are clear. That way, employees will see that safety regulations are designed primarily for their benefit, and not just to protect the organization.  
3. Define the vision and set goals
Everyone, from the CEO to the newest employee, should be on the same page when it comes to safety. Create a unified approach to your safety culture by clearly defining your vision. Communicate this vision consistently and use it to create goals and set expectations.
4. Assign responsibilities
Determine who is responsible for enforcing policies, goals, and plans. Make sure those who will be communicating directly with workers have a thorough understanding. Look for individuals who will be strong safety leaders and assign them specific safety responsibilities.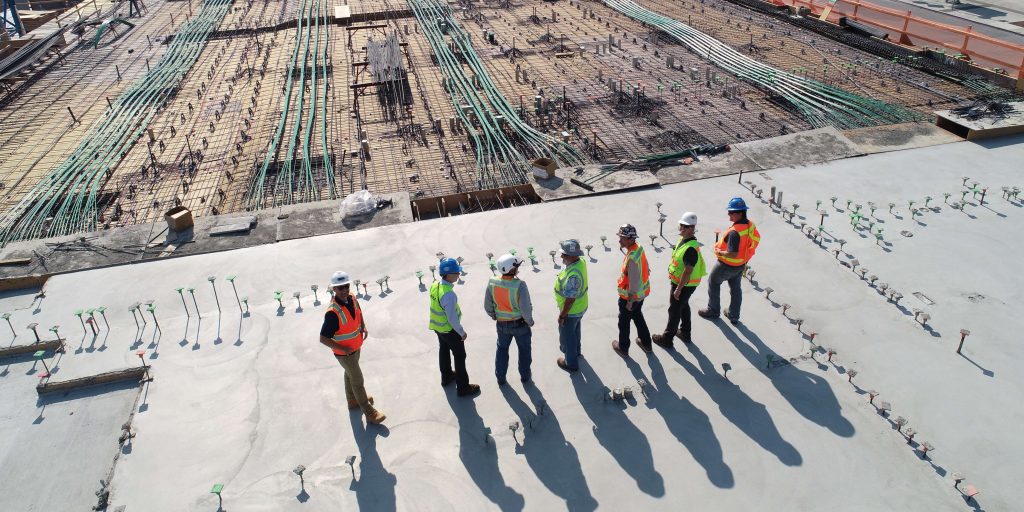 Day-To-Day Safety
5. Make safety material accessible and relatable
All safety material should be easily accessible and relatable. Begin with having appropriate training. Consider having managers actively engage with workers to reaffirm knowledge and answer questions. This is especially important during routine safety briefs, where crucial safety reminders can easily become boring. For example, some supervisors have boosted employee engagement in routine safety meetings with an interactive Q&A format.  
6. Build trust
Communicate that safety measures are designed for every employee's well-being. Also, be clear about the consequences of a safety violation. Inform employees of the policies to deal with violations and the repercussions of being injured while breaking safety rules. In some cases, an employee will not be eligible for worker's compensation if they are injured while breaking safety rules.
7. Enforce accountability
Set up systems to keep everyone visibly accountable. It is especially important for those in leadership positions to be seen following safety rules. Hold managers responsible to lead their employees toward safety goals. Have policies to incentivize and discipline workers as necessary.
8. Provide multiple communication channels
Give employees multiple ways to communicate concerns. Take advantage of the possibilities offered by smartphone apps and other interactive technology. Establish a chain of command to make sure supervisors are held responsible for responding to these concerns. These communication channels are also a way to track and correct reported hazards.
Incident Follow-Up
9. Report, report, report
Have a well-defined system for reporting incidents. It's important to not just report accidents, but also near-misses, on-going concerns, and hazards. Reporting an incident as accurately as possible lessens the chance of it happening again.
10. Investigate incidents properly
It's important to take the proper steps while conducting an investigation. Gathering accurate data is crucial to determining the root causes of an incident. OSHA's four steps to investigating incidents are:
Preserve and document the scene
Collect information
Determine root causes
Implement corrective actions
11. Focus on the root cause
When investigating an incident, OSHA recommends focusing on the root cause rather than blame or fault. A behavior-based approach can incorrectly place blame on specific employee actions. While at-risk behavior (like the rule-breaking mentioned earlier) may be the cause of some incidents, it is not always the root cause. Workers may be unwilling to report incidents for fear of being blamed for something beyond their control.
12. Celebrate success
Don't forget to recognize success! Keep a tally of how many days your worksite has gone without an incident. Encourage employees to set the record for the number of incident-free days. Recognize workers who consistently follow safety rules and consider offering rewards and other incentives where appropriate.
Start building your safety culture with NBS
The goal of a safety culture is to make safety information accessible and give workers the knowledge to maintain a safe and efficient work environment. NBS can help you create this safety culture with skills assessments. Whether you're training new employees or testing experienced workers, skills assessments ensure that each worker has the skills and knowledge to keep your worksites safe and injury free. Contact us today about how skills assessments can build your safety culture!