Pre-employment testing helps companies of all sizes hire the most qualified and competent candidates. These skill-based assessments are designed to gather data on a potential employee's qualifications during the hiring process.
Why Pre-Employment Tests?
Employers may choose to add pre-employment tests to their hiring process for a variety of reasons:
Objectively narrow down the list of candidates
Ensure candidates have the right skills for the job
Reduce overall time to hire
Lessen the risk of making a bad hire
Create a more legally defensible hiring process
Close the skills gaps
Here are the basic steps needed to add pre-employment testing to your hiring process.
1. Choose the Right Assessment
There are a few different styles of pre-employment assessments available. Some measure job-specific skills (technical skills assessments) while others measure soft skills (personality tests or cognitive aptitude tests). Choosing an assessment that aligns with your open position is critical, especially for job-specific or skill-based positions.
Pre-employment tests help gain a deeper understanding of a candidate's skills to help determine if they are qualified for the position. An assessment that doesn't align with the position or doesn't measure the right skills could result in a bad hire.
For example, the NBS entry-level Industrial Maintenance Mechanic assessment covers eight different areas:
Machinery and Equipment: 16%
Tools and Safety: 14%
Electronics and Electrical Principles: 13%
Hydraulics and Pneumatic: 14%
Motors and Motor Controls: 14%
Mechanism Drives: 10%
Industrial Robotics Systems: 8%
Blueprints and Schematics: 11%
Each area is further divided into specific competencies. The largest section, Machinery and Equipment, measures a candidate's ability to:
Disassemble, repair, and reassemble machinery/equipment
Maintain operating conditions and perform preventive maintenance of the machinery/equipment
Identify and troubleshoot component defects and malfunctions
Test operation of newly repaired machinery/equipment
Analyze test results, machine error messages, and information from operators in order to diagnose machinery/equipment problems
Maintain a record of repairs and maintenance performed
If the position requires more specialized expertise, like refrigeration or packaging systems, then you may wish to consider an assessment like the advanced skill Industrial Maintenance Technician assessment. The more specific and precise you can be when choosing a skills assessment, the more informed your hiring decisions will be—resulting in a more qualified and skilled workforce.
Tip: Ensure you have a good job description defined for the position you wish to fill. Describe the tasks and skills needed for the position in as much detail as you can. Compare that to the skills listed in the assessment to make sure the test will give you the data you need to make the best hiring decisions.
Don't hesitate to reach out to your test provider if you need help choosing an assessment. They will be able to ensure the test aligns with your needs. Some providers, including NBS, can help conduct a job-task analysis and create a customized assessment specifically for your organization.
2. Decide When to Administer the Test
The best time to administer a pre-employment assessment will depend on when you want to receive the test data. Will it be more helpful at the beginning of the hiring process, as a way to screen candidates? Or will it work better to use the assessment data to narrow down a list of candidates you know have some qualifications for the position?
A typical hiring funnel consists of three phases:
Fact-finding: resumes, applications, screenings, first-round interviews
Evaluation: second round interviews, background checks, reference checks
Selection: negotiations, offer
You may decide to test an applicant in the fact-finding stage. This will help you quickly sort through a large pool of applicants to find those who have the technical skills for the position. This way, you don't have to rely solely on applications or resumes, which can be misleading. An estimated 78% of resumes are misleading and 46% contain actual lies.
You may also administer a pre-employment assessment after some initial screening and during the evaluation process. This can allow you time to make sure the candidate is a cultural fit before you measure job-specific competencies.
3. Administer the Test
Candidates will either take the pre-employment assessment with a remote proctor or at a designated testing facility. Your location can be the designated testing facility if a current, reliable employee is assigned to be the proctor. Many skills assessments also contain a performance assessment or job simulation. This level of hands-on evaluation goes beyond what is covered in the written portion of the test and demonstrates the candidate's ability to complete specific tasks required by the position.
To help ensure the reliability of our assessment results, NBS administers skills assessments through a network of certified testing locations across the country. We've partnered with community colleges, career development centers, and Workforce Investment Boards, to establish the Industry Resource Center (IRC) Program. Employers may also administer a performance assessment at their own facilities if they have a qualified evaluator.
4. Implement the Results
Once you receive the assessment results, you can use that data to make informed hiring decisions.
NBS reporting packages break down scores for each performance area, giving precise insight into specific strengths and weaknesses. Scores are also compared to a national and state average.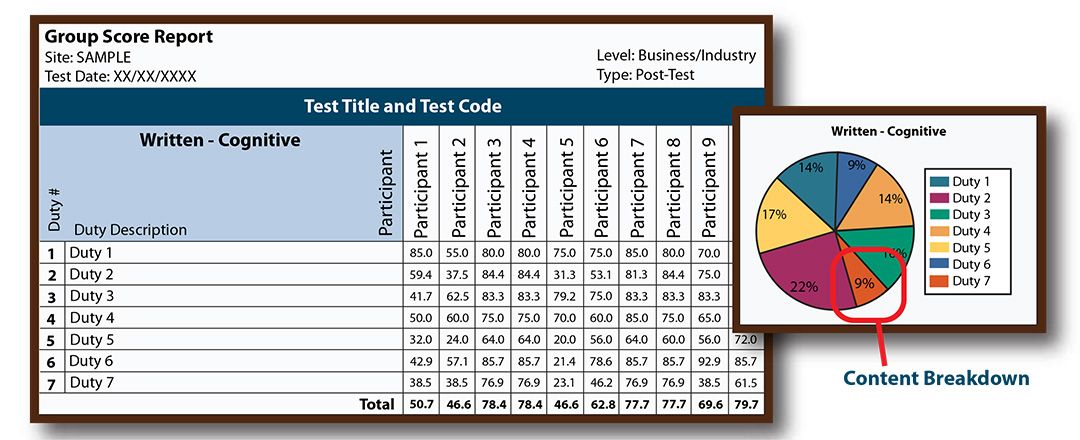 This breakdown can help when comparing multiple candidates and can even provide training insights on where to focus training efforts.
This specific breakdown also creates a more legally defensible way for employment decisions to be made without bias and on the basis of knowledge and skills required for the position.
Build a Skilled Workforce with NBS
Nocti Business Solutions offers over 170 technical skills assessments across every industry. Our tests are thoroughly researched and designed to provide accurate and fair results. Our test development process, from start to finish, is founded on industry standards of test validity and reliability. Browse our full list of assessments in the Assessment Index.
We also offer custom development to help employers more effectively overcome their specific recruiting and training challenges. Please contact us with any questions or if you'd like more information on pre-employment tests. We're happy to set up a free consultation and discuss how pre-employment tests can help build a more qualified and resilient workforce.